It's really starting to feel like summer now with all the glorious sunshine we've been enjoying. We've just spent a lovely day catering for Isobel's summery 60th birthday picnic organised by her husband, Bob, knowing that she would definitely love a good hog roast in Hainford. Ours is really popular, even though we can cook lots of other kinds of meat for you in one of our machines, including beef, chicken, turkey and anything else you can think of, really. Nevertheless, Bob knows his wife would choose a roasted pig over anything else on her birthday and so booked us in for today to feed around 25 guests in their back garden.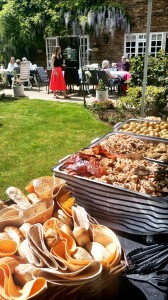 When we first spoke to Bob, he told us that a simple roast where guests could enjoy pork sandwiches would be perfect for the party; we call it a 'pig in a bun' and we bring along nice, soft bread rolls and our signature stuffing and apple sauce that always go down a treat. Plus before carving the meat slices, we carve off all the lovely, salty, crispy crackling first, which you can eat on the side or inside your sandwich (or both!)
Earlier today, we arrived at the couple's house bright and early, to start serving around 12. It takes just a few short hours to roast a pig of this size (about 30kg), which comfortably feeds this amount of guests even with some having seconds and there could be some leftovers, too. The garden was beautifully decorated with fairy lights and birthday banners and, being a picnic theme, there were blankets and cushions all over the grass for people to sit on, as well as some deckchairs and normal chairs for older guests or those who preferred not to!
We set up the gazebo and the serving table before starting to prepare and cook the pig. We always keep an eye on it as it's cooking, just in case, but there's always time for a chat to the party hosts while doing so. By the time the guests started to arrive it was all about the wonderful smells wafting around from our hog roast and that's when people started getting excited about eating it. We sliced off the crackling, carved the pig and served lots of delicious pigs in buns to lots of satisfied guests. Happy birthday Isobel – We hope you enjoyed your Hog Roast in Hainford!