Can you provide cutlery?
We treat every customer as an individual and the price agreed will detail the crockery and cutlery included, whether paper plates for an informal hog in a bun or crockery and glassware for a formal dinner with table service.
Our party will include children and also some quite elderly relatives, are the staff all professionals?
Yes. We have over 20 years hog roast experience and are inspected by local authority. All our chefs and catering assistants are fully trained and highly qualified, carrying the required certificates of food hygiene and health & safety. Our waiting on staff are also of the highest standard and will treat all your guests courteously and treat your property with respect at all times.
 Will we be able to see the pig cooking?
We have different machines to cook the hog and if this is part of your requirement we can ensure that the hog is cooked on a spit machine and can be viewed by your guests.  This is done in an environmentally safe manner and the machine is never left unattended.
Can you provide catering at locations which aren't listed on your site?
With enough notice I am more than willing to provide my hog roast catering experience to any location in the United Kingdom although it must be taken into consideration about any added expense if this location is hundreds of miles away.
My budget isn't substantial. Is this a problem?
I pride myself on being able to offer my hog roast catering services no matter how much you have to spend. I know that we're living in tough economic times and this is why I work closely with my customers so that they are ultimately fulfilled with the service which I offer them.
Do you use good quality food?
Undoubtedly yes. All of the food items (such as potatoes and salads) which I source fresh are based locally to my home village of Walton. I can personally inform you about exactly where I obtained my food from.
Are you able to arrive in plenty of time to cook my hog roast?
Certainly. When I provide hog roast catering to my customers, I make sure to arrive with hours to spare. This allows me to guarantee my customers that the hog roast meat which I can cook for them will be much like it has been for my many other customers.
What if I want something different than what's on your menu?
Due to my own personal experience of working in the catering trade such as in an Italian restaurant, you'll be amazed at what I am capable of preparing for you. Best of all, these additional food items will be able to fit into any budget.
 Can you provide desserts? And if so can we have more than one or two choices?
We pride ourselves on being able to cater to our customers specific requirements so that they have an event to remember. We can provide desserts and we can also work alongside the customer providing some of the catering.
Quality Food Is At The Heart Of What We Do
Whether you are arranging a wedding function, a birthday party or even a christening in the Hunstanton and Attleborough area, you might therefore require catering. No matter what you need from your catering, I can guarantee that I will be able to provide you with an experience like no other. Courtesy of my extensive experience of over thirty years I have been plying my catering trade in such environments as an Italian restaurant and even in honour of the opening of an airport terminal.When people ask me to provide hog roast catering for their social function, they will be intrigued about what exactly it is which I can provide to them. The hog roast meat which I can offer you is simply sublime and has been known to fall apart in my customers mouths due to the perfect way which I cook it.As well as hog roast meat, I can offer other food items as well. These include a range of sumptuous salads as well as other items which are home cooked. With all of my meat and other food items locally reared, you'll be amazed at the food which I can provide for your social function. Even if you wish to have a different item for your social occasion which is not on our menu, thanks to my own experience of working in a wide variety of catering environments you'll be amazed at what I can cook.In order to travel from one hog roast catering event to the next, I use my van which is spotlessly clean. In my van I hold all the food items which I am due to provide to my customers. By keeping an incredibly clean van has impressed all of my customers as this has shown them that I am a dedicated hog roast catering professional and not just someone who is making it up as they go along.In order for my hog roast catering experience to be something which you can have, you could be wondering right now about how much is charged for my services. The answer to this is very reasonable because I know many people are experiencing financial pressure at the moment. When I am hired for my hog roast catering expertise, I work with you so that each and every aspect is taken into consideration which means that your budget is met. Each and every customer of mine is different from the next and I am able to adapt my services accordingly. I know that not every customer requires the same results from their hog roast catering event as each other and this is why I offer a convenient service.Nowadays, when I am not providing hog roast catering for my ever-growing customer list I am working alongside my wife in my café which is in the village of Walton. If you feel like trying out the food which I can offer to my many customers in this environment, then why not swing by and check us out? I am more than willing to serve you up something on our menu. I guarantee that the food which I can offer you even in my café is bound to sway your decision as you'll know that the food which I can offer at your social occasion will be nothing short of remarkable.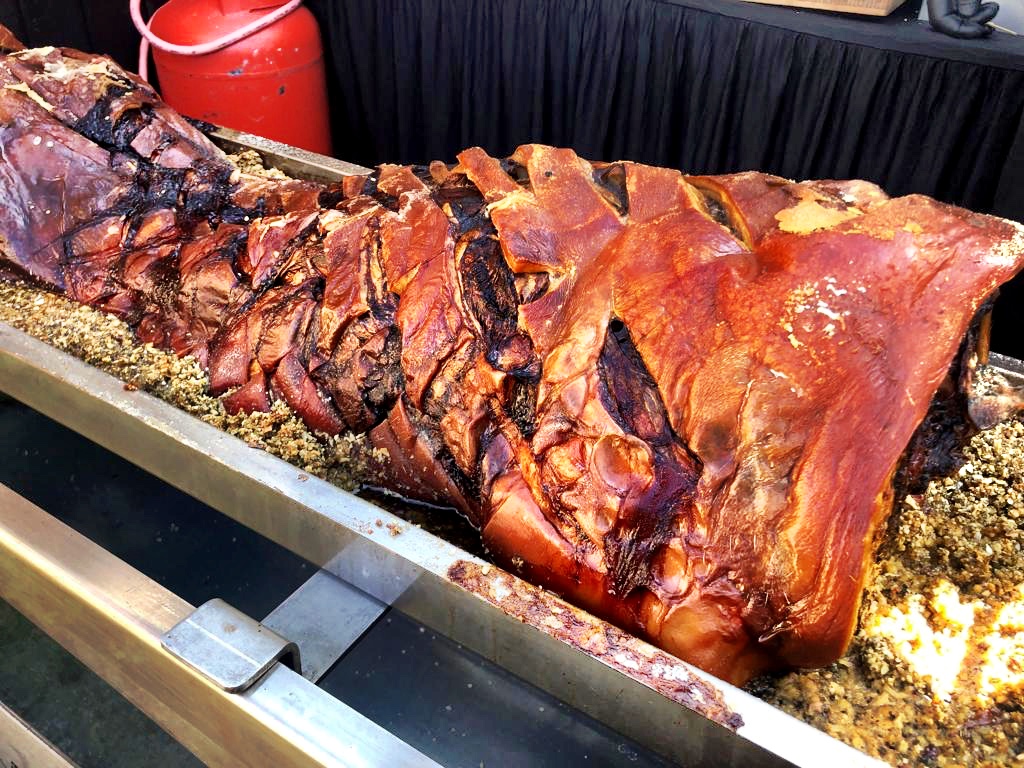 So, when you require hog roast catering in the Hunstanton and Attleborough area then there is no other better provider of this than myself. Whether your social event is taking place in a large gathering or even if you require my hog roast catering services for a business meeting that you want to make a strong impression at, there is no need to look any further. Even if you require hog roast catering at an event I haven't listed here on this website, there is no need to worry. With the experience which I have gained during my career, it is more than likely that I have provided catering in the same type of function or event which you currently require my services for. I am more than willing to answer any queries which you might have. As you can contact me by phone and also email, I will try my best to reply to any emails which I receive as soon as possible.
Hog roast catering for the Hunstanton and Attleborough area; we know what we're doing especially when we can provide our customers with many other types of food than just hog roast meat.