Here at Hog Roast Aldeburgh one of our favourite things to be doing is to work in partnership with other like-minded quality businesses just like us. We know that sometimes it is necessary to gather the whole team for a function or important corporate meeting, and of course to go along with that you need a fine meal ready to feed the masses. I mean, after all, who can work properly on an empty and unsatisfied stomach?
We certainly can't, which is why Hog Roast Aldeburgh makes corporate catering easy and special with our exquisite slow cooked roasts and buffet options so that you can keep building your business meet along with a fantastic feast.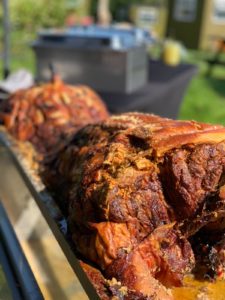 With over two decades in corporate catering, it might be fair to say that we here at Hog Roast Aldeburgh are fair experts in the game now. We've got this down to a science so that your event can still go off seamlessly and without any interruption on our part. Just take some of our many corporate partner's word for it – we come in with efficient service and brilliant food and leave little trace of our work as we vacate promptly and tidily. We're only here to help fuel your business, not muddy in the way of it.
Our hog roast, however, is every bit as impressive as we say it is, and so if you're looking to truly impress clients or prospective partners then the Hog Roast Aldeburgh renowned hog roast will most definitely do that for you. Its traditionally made method and proper roast process ensures a crisp texture like no other, and a meaty juiciness unrivalled in any other catered foods. This is corporate dining with a premium quality and impressive style to it.
What's more, as mentioned we have a whole host of businesses that we've partnered to after working happily with over so many years. With partnership comes even better service as we become accustomed to your needs while you become more accustomed to our styles. The more we work together the easier it is for us to provide you the exact service you want and provide even better hassle-free catering. Our partners receive certain advantages that can only be achieved with continued service.