Corporate events can take many shapes, whether it be a seasonal event, a formal party, a hiring event, or a business meeting; we know that there are many different types of catering that businesses may require. At Hog Roast Cromer we offer 5 different packages, with something to suit everyone!
The first type of package we offer is a buffet-style meal, which can take place indoors or outdoors. This is a great catering style for informal parties or gatherings, or events taking place over the course of the day. While a buffet may seem informal, the food is still excellently presented and all cooked on-site. You can choose as many meats and sides as required, with the option of adding desserts too!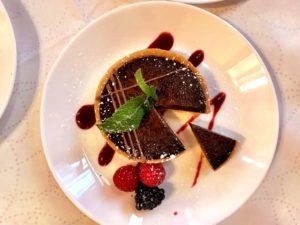 Our second package is a selection of snack rolls, which are great for informal events with many guests, for example, an open day or hiring event. The meat for these rolls will be cooked on-site, with the option of one meat or many, including chicken, pork, and beef. We can serve the fresh rolls on their own or with a selection of sides, such as salads or potato wedges.
Our third and final package is a formal sit-down meal. A standard package includes a starter and main course, although we offer the option of upgrading to include canapes, drinks, and dessert. This is the ideal catering style to offer at a Christmas party or formal dinner. Our menu offers a range of meats, potato dishes, and sides, presented to your guests by Hog Roast Cromer's waiting team on crockery.
We can cater to as few as 20 people or as many as thousands- it all depends on you and your business! Every package can be altered to suit any dietary requirement, including vegetarians, gluten-free and dairy-free. No ask is too big for Hog Roast Cromer! If you want to discover more about our corporate catering packages, register your interest via the form on our website.