From speciality hog and spit roasts to barbecued and marinated meats, Hog Roast Diss catering is a carnivore's dream. Nevertheless, we also have so many more options to suit special diets, personal tastes and bigger appetites that all of the guests you invite to your party or event will be able to enjoy our wholesome food. From tasty vegetarian and vegan dishes to ones suitable for those with a gluten intolerance or allergy that are just as scrumptious, we've got you covered if you need an alternative providing, and if you have any other diets that need catering, just let us know in advance and we'll ensure that everyone is well-fed, whatever you're celebrating or commemorating.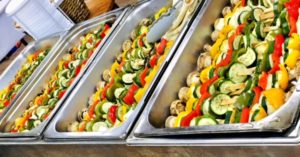 Hog Roast Diss recently catered a local event that was organised by Matthew, where he wanted to treat the hundred-plus guests to our amazing pigs in buns. To make our fabulous heaven-sent hog roast rolls, we prepare the local, high-quality meat fresh at your venue and cook for several hours and then the crispy, salty crackling and tender, mouthwatering meat are both added to floury bread rolls and wraps. After topping with our own-recipe apple sauce and sage and onion stuffing, they're yours to devour and we guarantee you'll be back for seconds or more – and so will your guests!
For Matthew's event, he also asked us to provide a vegetarian option and decided on our veggie skewers, which consist of lovely halloumi pieces and several vegetables grilled and are served with a Tzatziki dip and pitta bread. They're loved as much as our pigs in buns and can even be made vegan if needed, by leaving out the chunks of cheese.
Hog Roast Diss cooked up a gorgeous feast of proportions on Saturday for Matthew's event, starting by preparing the hog for its roasting ages before we were due to serve and then watching over it as it sizzled away under the sun. Mid-afternoon, once the meat was having a short rest and the skewers were slowly grilling to perfection, our team prepared the fixings for the pigs in buns and then finally, it was time to serve.