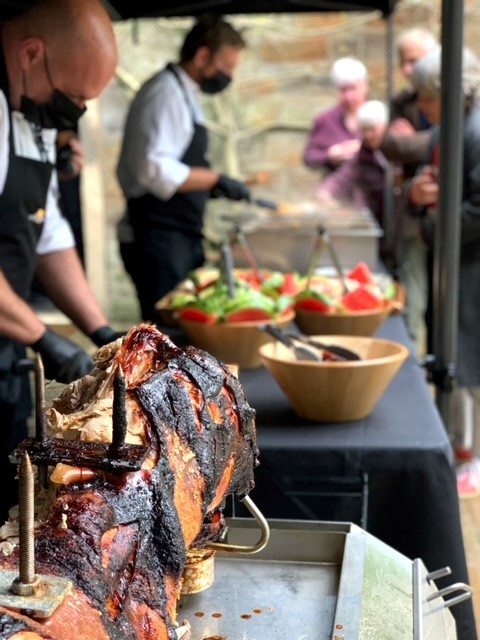 Hog roast Norfolk hog roasting team were lucky enough to visit the beach at Cromer over the weekend. It's an idyllic area: the little beach houses all painted gaudy colours line up along the sand and look out over the sea water as the little waves lap up the beach. Good weather always brings out the crowds and it was no different on Cromer beach: Mums and dads paddled in the water while grandparents looked on from the comfort of their deckchairs. Teenagers, more adventurous jumped around and swam in the deeper water. It was lovely for our hog roast hire Norfolk team to watch as they set up the ovens and got down to the serious business of roasting one of our excellent 100% organic hog roasts.
By the time the delicious aromas of hog roast hire Norfolk roasting pork were wafting about on the sea breeze a treat to the nose I might add, the day trippers began to drift over asking for cuts of our melt in the mouth roast pork for their lunch snack with apple sauce to fend off that voracious hunger which exercise in the fresh air produces. We received many compliments that day on the quality of our service and food. After 20 years perfecting our technique we're sure you'll also agree with many of the customers asking for a second portion this is something that makes us proud of our services!
The Best Hog Roasts In Norfolk
At Spitting Pig our passion is food beautiful home made food meat roasted from scratch and side dishes created with passion with outstanding flavours and a meal that is perfect for all ages even the children will be wanting a second helping. We are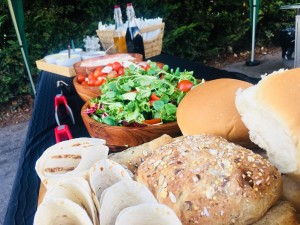 committed to delivering the highest standard of service to all who engage us to cater for their event. We have a wide range of menus to suit the largest to the smallest parties, and will even work with you to create a bespoke menu to suit your hog roast Norfolk event perfectly. You can choose from our range of salads which will be prepared on site on the day guaranteeing their freshness; from our delicious canapés and starters and we also have a choice of mouth watering desserts.
Although the hog roast Norfolk catering is what we are famous for, we like to accommodate different tastes: for this reason we can also roast anything from whole spit roasted lambs to fresh free range chicken, turkey is something we cook at Christmas time for most of those Christmas parties we can also accommodate your guests with Kelly bronze turkeys and even fresh chicken kebabs. We are also aware that not everyone eats meat, so if you are concerned that some of you guests may be vegetarian, we've got that covered too with our meat free dishes which of course meet our high standards we don't just offer up a standard jacket potato we are great at making veggie burgers as an alternative with seasonal vegetables and breadcrumbs or a spinach quiche which is created at the right temperature to have those veggies drooling at the mouth moist soft, warm and full of flavour it will be hard for the pork eaters to restrain themselves from a portion of the vegetarian option too.
Designed To Suit Everyone's Taste-buds
If you're looking for something a bit different to make your event stand out, consider a Spitting Pig hog roast. And if you would prefer to be chef for the day, we can even offer for hire one of our custom designed ovens complete with tools and attachments. So whatever your event this summer, give the pig roast Norfolk team a call at Spitting Pig today and let's get started together making your day one to remember!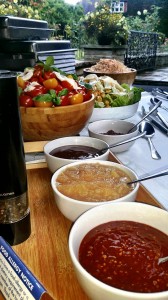 The county of Norfolk in the South East is a beautiful area to live to work and live, with a great sense of community spirit in the area everyone is very friendly and polite. Norfolk is most famous for its extensive wet lands known as the Norfolk Broads. Much of these have been designated areas of outstanding beauty and have become wild life sanctuaries protecting the vast numbers of birds which nest and feed there. Norfolk also boasts a multitude of zoo's, wonderful scenic beaches and popular theatres among its many attractions, this makes the town a great tourist place and many of the local shops, bars and cafes cater for tourists and have a lot to offer them, there seems to be something for everyones taste.