Welcome to our corporate events section here you will find a whole host of menus specifically designed for businesses. These menus are perfect for Christmas parties, summer barbeques, saying thank you to employees, open days and are a fantastic way to impress clients. We have catered for a wide variety of both small and large companies within East Anglia from large multinational corporations to small local businesses and are very proud of our relationship with some of the county's most successful and well known businesses. Here is one of our favourite testimonials from a client we work with on a regular basis; we believe it accurately describes the delivery of one of our corporate menus.
"Hey guys, just wanted to send over a quick email to let you know another job well done. The lads were absolutely fantastic as they always are. Because of the increased numbers this time we were worried initially that you would struggle as in the past we have had a few problems with other caterers. However your staff were completely relaxed and served everyone quickly and professionally, we were amazed at how much food there was, we kept going back for more and more. Also some of our employees specifically told me to mention that the vegetarian and alternative meat options were fantastic as you know we employ a very multicultural work force over here and often on other events I do feel sorry for them as vegetarian and alternative options often seem to be an afterthought by a lot of other catering companies but this wasn't the case. So from all of us here we'd like to say a big thank you and we will be seeing you again for our Christmas party that I will book with you today."
Hopefully after reading the passage above you will be able to see that we are a very professional outfit, we look to build lasting relationships with the companies we work with. For a full list of our corporate clients please take a look at the testimonial page or alternatively why not take a look at our company blog; here we post pictures, videos and write ups of every event we cater for so you can keep fully up to date with us here at Spitting Pig East Anglia. So please take some time to browse through our menus and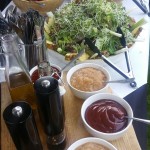 remember they do not represent the limits of our catering abilities and we are always up for a challenge. Once you've decided on your menu or created your own then all that's left to do is get in touch with us for a personalised quote or if you just want to ask us some questions then either call us on the number above or alternatively fill in the online enquiry form found on the contact us page of the website.