Everyone loves a good party and we here at Spitting Pig East Anglia are no different. Working in this job we've attended hundreds maybe even thousands of private parties and events. If you take a look at our testimonial page you'll be able to see for yourself just how popular and tasty our hog and spit roasts are. A hog or spit roast really brings a party to life because it is such an original and unique way to cater for an event. Here is a particular testimonial from a valued customer of ours that we think accurately describes the Spitting Pig East Anglia experience.
"I am writing to say a big thank you to you and all of the team that worked so hard last weekend to Cater for my daughter's 21st birthday party. The team arrived early on Saturday morning and got straight to work. It took no time at all to quickly erect the gazebo and get our pig cooking, I must say I was particularly impressed with your machines they looked fantastic. It wasn't long before the beautiful smell of hot roasting pork came drifting through the kitchen window. My husband and I watched excitedly all afternoon as the skin began to crackle and the hot juices began to flow over the skin. As the guests arrived I was panicking because I was finding it really difficult to serve everyone drinks. Lucky one of your staff spotted this and came over to help even though you were getting ready to serve he assured me it was no problem and that he would do the drinks. Well, I was amazed we have used a few caterers before none as helpful as yourselves. All of our guests commented on how good the food was and how professional the staff were. Everything was perfect and you left the garden exactly as you found it. I couldn't be happier and would like to say a big thanks again I'm certain we will be seeing each other again quite soon."
So if this sounds like an experience that you'd like to be part of then please take a look around the private party section. We are perfect for birthdays, christenings, community events, anniversaries and any social get together. There are a large variety of menus that we have created specifically for private parities but as with all our menus they are all completely customisable, so if you have any individual ideas or would like to make a few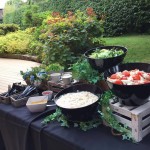 changes to a menu then just let us know. If you would like a quote or just want to ask a few questions then give us a call on the number at the top of the page or alternatively click on the contact us link and fill in the online enquiry from. Our office hours are Monday to Friday 9am till 5pm and we aim to send out personalised quotes on the same day. We hope to see you at your next private party.