Welcome to the Spitting Pig East Anglia wedding pages now the daunting task of organising your wedding begins. The good news is we are here to help.
We know how difficult it can be to plan a wedding not only have most of us in the office done it for ourselves but we also deal with people on a daily basis looking to get advice, quotes or just to have a chat about their wedding catering. This is a day that needs to be magical and one to remember for the rest of your lives and therefore we get a lot of customers who are confused and need someone to talk to. There are hundreds of caterers available and often it can be very difficult to choose one you can trust and one you know will be able to make your day as special as you've always imagined. We have been providing wedding catering for the past 7 years and truly believe we are experts in the field. Here is a comment from the bride and groom at one of our most memorable weddings:
"Hello, Spitting Pig East Anglia, its Sarah and Paul here. We are just writing to say what a wonderful day Saturday was and to give a big thank you to all the team who made our wedding possible. From the moment I got in touch with you, about 6 months ago, you made everything so easy and simple. I was very worried about planning my wedding as I wanted to make sure it was a day to remember and that all my guests would be accommodated for and enjoy the day. There were so many companies to choose from but after speaking to you over the phone I knew I had found the right caterer. A hog roast was such a unique idea and all my guests thought it was brilliant all the accompanying dishes were superb. Well we are off to the Bahamas now for our honeymoon so thank you to everyone at Spitting Pig for making the day truly magical."
So if Sarah and Pauls comments are intriguing you then why not take a look at our wedding menus. As with all of our menus they are completely customisable and if you require anything extra from us then you need only to ask. We know that weddings also need extra attention and that's why with all our wedding bookings here a Spitting Pig East Anglia we offer tasting sessions so you can select your favourite dishes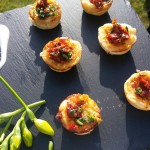 and site visits so we can understand how you want everything to work on the day. So what are you waiting for why not give us a call today, our office is open Monday to Friday 9am till 5pm and we have trained catering specialists waiting to take your call. Alternatively why not fill in our online enquiry form found on the contact us page and we will have a personalised quote back with you on the very same day.
Back To Menus