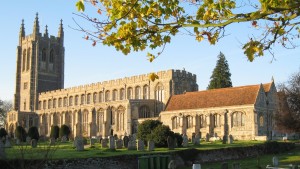 Hog roast Long Melford has a reputation for good food and quality chefs and waiting on staff. We offer a traditional pork hog roast but can also offer our customer beef or lamb or free range chicken. We also supply salads, potatoes cooked anyway you want and a variety of vegetables. Our puddings include cheesecake or fruit salad or something else if you want a particular pudding just ask for it. There are several advantages with a hog roast we cook it; serve it provide our own chefs and waiting on staff depending on the menu you choose. We have a variety of menus from a hog roast served with a bun to sit down menus of 3 or 4 courses. We also listen to what you the customer want and if you want your own special menu we sit down and work it out with you present. You may contact us by phone or completing the form on the website. We cater for everything from private parties to weddings or corporate events.
The Number 1 Hog Roast Catering Company in Long Melford
For the more adventurous who may want to cook their own hog roast we can deliver a machine with or without the meat. After a short demonstration we will leave you to cook your hog roast, you can be sure it will be tender as the method of cooking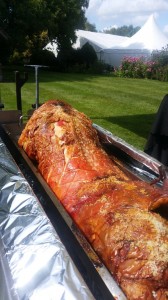 mean that it cooks in its own juices. Hog roast hire Long Melford have a range of different size hog roast machines to cater for smaller private parties to corporate events and we also do barbecues. You may also want some fish we can supply that and cater for vegetarians and we also collect the hog roasting machine afterwards. For all events if we cook the hog roast we clear up afterwards leaving you to enjoy your celebration. We hog roasters are a friendly bunch and we get professional hog roasters hiring a machine and vice versa. The weather and the beautiful countryside help to keep a smile on our faces and we have the pleasure of seeing you the customer enjoying yourself. We provide everything so there is nothing to worry about, and if you cook the hog roast yourself the cooking process allows plenty of time to mix with your guests as it does not need constant watching.  Our customers come back as they enjoyed themselves so much and now what there is to do in Long Melford.
How about a visit to Melford Hall, which was once home to Beatrix Potter. There are games to play such as croquet in the garden and there are some exhibits that were originally treasure. If naval exhibits are your thing Melford Hall has those as well and the hall holds events please see their website for details. Nearby is Kentwell Hall a stately home with gardens. There is also a farm with rare breeds of animals and Tudor re-enactment takes place at the weekend. Imagine a hog roast at Kentwell Hall for a wedding and other events such as a Scarefest take place throughout the year.
You may prefer something gentler and like to for a walk along the river Stour. If history is more your thing  you might like to look at the churches such as the Lady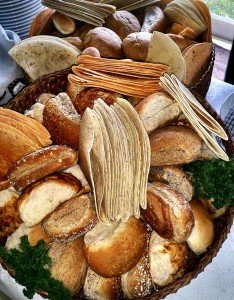 Chapel well known for its stain glass which is hundreds of years old. As Long Melford was set out along a single road the village green reiterates this layout.  The green also has one of the tallest elms in England. Long Melford became prosperous in the 16th century from selling wool.
After all this walking you may fancy something to eat and drink there are seven pubs one The Bull Hotel also offers bed and breakfast and food. It is a Tudor style hotel made from timber if you stay in the Bull Hotel room No 4 it is haunted by the mischievous Richard Evered, a poltergeist who meant an untimely end in the hotel. We have finished work and are raising a glass to you and we hope to see you soon.
Long Melford is a village found on the border of Suffolk and Essex. The name of the village reflects its name as it used to stretch out along a single road. Roman remains were found over two hundred years ago in a gravel pit, which are now the grounds of the local football club. It is surrounded by beautiful countryside and is unusual in that one of the churches is almost as big as a cathedral.