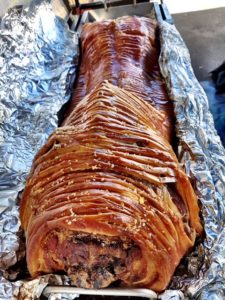 It was early when we arrived to set up our gazebo to give us shade from the sun, but as the morning wore on and the delicious smell of hog roast Thetford roast pork wafted out into the crowd, people began to wander over. We were able to offer them cuts of melt in the mouth hog roasted pork in soft rolls filled with our own special apple sauce. We also make delicious crackling as we know you'll agree once you've tasted it. However we are not limited to just meat: We provide an array of freshly made salads to compliment our hog roast, and they're all made on site so they are fresh on the day.
The residents of Thetford all agreed that after a long days shopping in the fresh air, our hog roast Thetford was just the thing to rejuvenate and refresh them. Because we are so committed to quality, we work very closely with all our suppliers which means we know we can pass this quality on to you. All the pigs we use are 100% organically farmed, and such is our relationship with the farmers that we even get to visit the pigs and see them in their fields.
The Best Hog Roasts In Thetford
Our fabulous hog roast Thetford service goes much further than this. We can cater for any event large or small, from big events to smaller more intimate gatherings. We also offer a wide range of menu's to suit any number or budget. It's because we are so
passionate about what we do, that we will gladly work with you to arrange a menu that will be perfect for your day. And because we design and custom build all our own roasting machines, we can adapt them to cook a variety of dishes from our signature organic hog roast to lamb, chicken, even kebabs!
Knowing that not everyone eats meat we can also offer a vegetarian alternative which also meets our exacting standards. So if you're looking for something a little bit different for your event this summer, give the Spitting Pig a call and let our friendly staff begin the process of helping you plan your perfect day! Thetford is an ancient market town in Norfolk whose streets resonate with languages from Portuguese to Lithuanian. It has become a truly multicultural area. One can sample the diverse range of ethnic foods in the local shops; or visit the market held twice weekly to buy anything from hand made confectionary to fresh seafood. Thetford forest is a favourite destination for both locals and tourists. These days the forest is full of nature trails, cycle paths and play areas; but long ago it must have been teeming with wild life and maybe wild boar. Perhaps the people of Thetford even hunted them among the trees? If that was the case then they would have loved our Spitting Pig hog roast Thetford, just as the people of Thetford and further afield did when we took our versatile mobile hog roasting machine to Thetford market one sunny Saturday.