Today we helped Jenny celebrate her 21st birthday by providing a succulent hog roast in Holt centrepiece for her party, which was organised by her parents. We made our way to the venue, a lovely old coaching inn with large, pretty gardens, nice and early in the morning. We would be serving the hog roast Holt as well as additional food options around lunchtime, and the 40kg hog that we'd brought along to roast would need preparing and would then take a few hours of cooking and carefully watching over.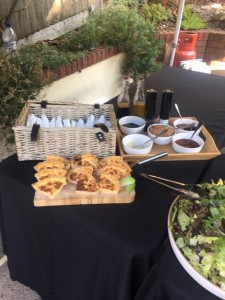 As well as the hog roast rolls that we were booked for, Jenny's party would feature barbecued food, including our own homemade sausages and 100% beef burgers, for the meat eaters who wanted something different. There were guests with specific dietary requirements who needed catering for, which is never a problem, and in this case, we needed to provide a gluten-free option and a vegetarian dish. Our hog roast Holt is already suitable for those with a gluten intolerance, but we just needed to bring along gluten-free bread rolls. Some fresh salads and a tasty, handmade, vegetarian quiche would complete the scrumptious menu for today.
We set up the gazebo in the lovely grounds and prepared the hog for a good roasting by scoring it and adding water and salt. There's always a few people interested in watching this process and it was no different on this day. Jenny's parents were busy arranging the decorations with the party planner and as I kept a watchful eye on the hog roast, I watched as the gardens were transformed beautifully.
As the hog was cooking away, our team got down to barbecuing the rest of the meat, preparing the crisp salad dishes and quiche, arranging the sauces and slicing the bread rolls. Our attention to detail is second to none and we always love to do an excellent job, with quality, fresh ingredients and first-class service with a smile.
Finally, all of our wonderful food was ready to be devoured, and the queues started to form. When Jenny and her friends tucked into the delicious hog roast rolls, their smiles said it all.