The quality of the meat that we use in our hog roasts and spit roasts is of paramount importance to us, as it greatly affects the taste of your food. We only use top local suppliers who we believe provide real quality products and this is important with our other food as well as the meat. From salad items to vegetarian options, fish dishes to even the sauces that we use, you can trust us to use the best and the freshest, so that you and your guests can enjoy yourselves and enjoy the food, whatever the event or occasion.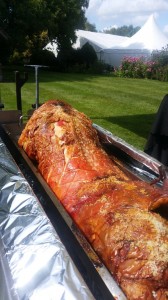 We were recently contacted by Jasmine, who wanted to check which suppliers we use and wanted to read testimonials from others who have used our services (and rightly so). We're proud of our first class service and commitment to excellence, which is why you can read testimonials and reviews of our catering service online, which often thank us for our service and the high quality of the food we provide. Jasmine later came back to us, happy in the knowledge that she was hiring caterers who really care about what they do. We have lots of repeat customers, which is the proof of the pudding (and proof of the main course too!) and after catering Jasmine's husband's birthday party with a hog roast in Banham, she vowed to spread the word of The Spitting Pig and hire us again in the future.
Jasmine asked for our very popular pigs in buns (hog roast rolls), where we cook the meat fresh in front of you, even when it takes hours. While some hog roast Banham catering companies turn up with the meat already cooked, we believe it tastes so much better when it's absolutely freshly cooked. Once done, we fill floury bread rolls with the succulent, tasty, roasted pork slices, bits of crunchy, salty crackling and our homemade stuffing and apple sauce.
Jasmine's guests all loved the hog roast in Banham so much that there were queues for seconds and thirds but as she had requested a large hog, there were still plenty of leftovers for people to take home for later.