Ahead of this year's Mothering Sunday, the Hog Roast Cromer team is here to help you get the most out of the special occasion – even if you won't be able to spend time with each other in person.
We know that for many of you, this is the second year running, and after missing out on all the festivities last year, you'll likely want to make this time around count. And so we think you'll be pleased to discover that at Hog Roast Cromer, we're providing the perfect solution that we think will work well for everyone.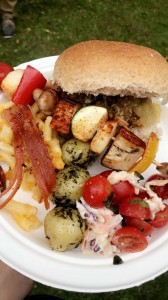 This Mother's Day, we're offering you the chance to choose your perfect menu from across our full selection of gorgeous hog roast dishes, which we will then deliver right to your mum's doorstep when the day comes. The booking process for this service is just as simple and straightforward as that of our other catering options, and it's made even easier by our customer care team who are always readily available to give advice and answer any questions you might have regarding your order.
In less than a year since its launch, our contactless deliver option has proven to be a real treat for recipients by offering an at-home indulgence that simply can't be beaten. As such, we've already seen a huge influx of bookings in the weeks leading up to the annual celebration, with our most recent coming from first-time client, Celia.
Hoping to make her mother smile this Mothering Sunday, the client has asked us to drop off a stunning feast, featuring our signature, flavour-packed pulled pork rolls, complete with applesauce, homemade sage and onion stuffing, crackling and sides of Greek salad with warm new potatoes in a herb butter. In addition to the main course, the client has also asked that we include a slice of zesty lemon tart, adorned with fresh raspberries and summer fruit coulis.
If, like Celia, you're also interested in treating your mum to a superb Hog Roast Cromer meal this Mother's Day, then get in touch with us now to book your Gourmet Delivery.