Wedding celebrations are a special time in every couple's life, filled with joy, love, and the promise of a bright future together. And last weekend, it was Sophie and Thomas's turn to celebrate their love in style with a stunning autumn ceremony at one of the region's most-coveted venues.
The journey to this special day had been a collaborative effort, with Hog Roast Aylsham's dedicated catering managers, Andrew and James, working closely with the couple to make their wedding dreams come true. The preparations were meticulous, and the payoff was nothing short of spectacular.
The setting for the celebration was like that of a fairy tale – a picturesque estate surrounded by 50 acres of lush lawns, manicured shrubs, and ever-green trees. The day itself was shrouded in crisp air and a light mist that added to the enchanting atmosphere of the venue.
Inside the cosy dining hall, Hog Roast Aylsham's caterers prepared a Formal Wedding Catering Menu that was a feast for the senses. The spread began with an array of mouth-watering canapés, including pan-seared fillet of beef, roasted halloumi and tomato crostini, chicken liver parfait, smoked Scottish salmon, and delightful mini quiches. Once the guests had had their fill of these delightful nibbles, homemade soup and warm bread were served, preparing them for a tantalising main course.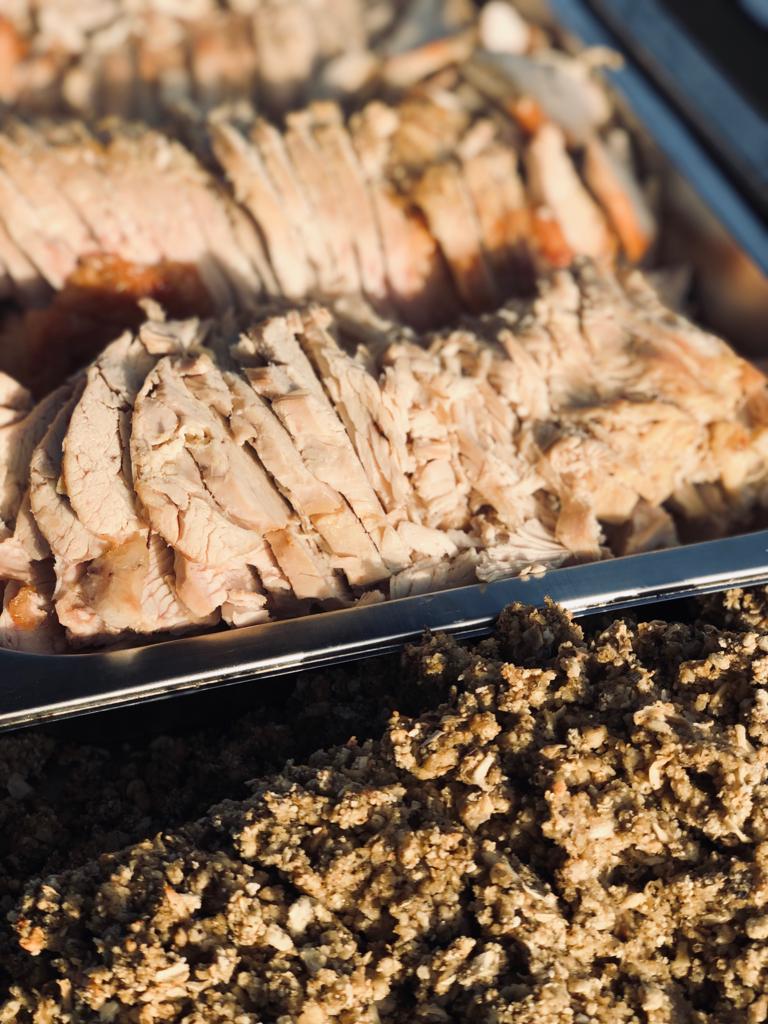 The main course was a sumptuous buffet, offering a variety of choices: whole-roasted free-range turkey with cranberry sauce and stuffing, garlic and rosemary studded English lamb with Yorkshire puddings and mint sauce, and a vegetarian-friendly option of grilled vegetable and halloumi skewers with flatbreads, tzatziki dip, and sweet chilli sauce. Side salads and dauphinoise potatoes added a delightful touch of variety to the meal, satisfying every palate.
The culinary journey reached its sweet crescendo with a tempting dessert buffet. Hog Roast Aylsham's vacherins of strawberries and passion fruit cream graced the tables, standing alongside the comforting allure of sticky toffee pudding, which went down a storm with guests.
Hog Roast Aylsham was honoured to be part of Sophie and Thomas's special day, adding a touch of culinary magic to their love story. Here's to many more years of happiness and delectable moments for the newlyweds!