Celebrations In Taverham
Today we catered for a house party with 150 guests in a beautiful family home, they wanted a Hog Roast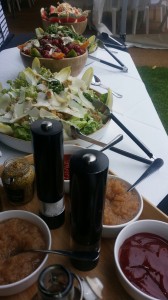 in Taverham with clearly victorian inspired architecture and stunning countryside surroundings as far as the eye could see. Our third private party option is one of our most popular, and that's what Wayne and his family opted for. His choices consisted of tender melt in the mouth hog roast pork, warm succulent new potatoes and homemade stuffing infused with the juices from the hog roasted pork. Also included was our handmade sauces including our highly popular apple sauce, which blends perfectly with the pork and stuffing to create a mouth watering enchanting meal. Also included was two salads of the chefs choice and scrumptious freshly baked rolls.
Although we commonly prepare our meat on site upon arrival, on this occasion we prepared it off site at our facility. It required immaculate seasoning, marinading and a long slow 12 hour cook. This meant we could quickly transport it to the family home and it could be quickly carved and prepared ready to serve. The importance of pre planning is huge when it comes to events, and the planning involved on this occasion proved to hugely benefit our service. We were able to server all our food quickly meaning when serving time (two o'clock) arrived all guests managed to get their food rapidly and could start to enjoy our passionately made food.
We set up our serving tables inside a large intricately decorated marquee in the summer sun, the weather couldn't have been more perfect for a party! We were ready to serve exactly on time to the 150 hungry guests who all had smiles on their faces and were taking in the aroma. Filled plates were quickly emptied and guests were soon flooding back to our serving table for seconds and some had room left for thirds. No matter where you looked you could see guests having a great time with smiles on their faces. One and all loved the buffet we'd prepared and many made inquiries about our services, making this another success story to add to our portfolio.