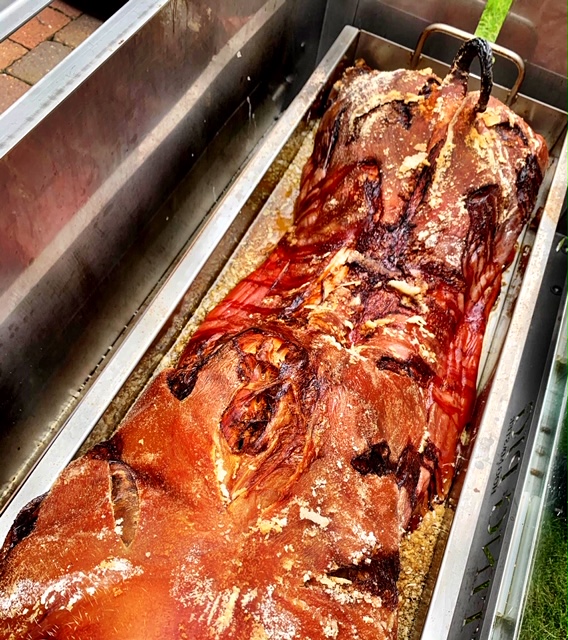 At the Spitting Pig hog roasting company we use only 100% organic pigs. Quality of produce is as important to us as it is to you; for this reason we work very closely with our suppliers and know exactly where our hog roast Dereham pigs come from and how they are farmed. We are even able to visit their farms on occasion! It was with this in mind that a family from Dereham engaged the Spitting Pig hog roasting company to cater the christening of their first grandchild. We were asked to provide a marquee type tent in the grounds of a beautiful old manor house.
We arrived early with our marquee and oven. The lawns were well kept so we had no problem wheeling the oven into place. But even had they not been our patented oven design includes pneumatic tyres which means we can take our portable ovens anywhere.While the family attended the ceremony at a nearby church, our people got to work assembling the marquee and firing up the ovens. By the time the guests began to arrive, the mouth-watering smell of our hog roast Dereham was already wafting through the air enticing the guests. As it was to be a buffet style event, the guests were free to wander over whenever they pleased. When they were ready they were greeted by our well trained and polite serving staff while our professional chefs busily carved the meat. In addition to our signature hog roast hire Dereham, the family had also chosen a variety of our salads which were freshly made on site, alongside our very own delicious apple sauce and of course, what would a hog roast be without crackling! So there was plenty of that to go around too.
The Best Hog Roasts In Dereham
We have spent 20 years perfecting our Spitting Pig hog roasts and we think you'll agree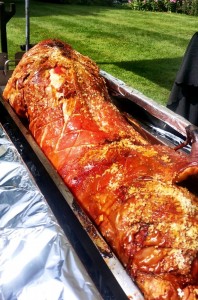 that we really have learned how to cook to perfection. The guests certainly seemed to think so. So many people thanked and complimented us on not only the food but the quality of service. This really means a lot to us because it's how we know we're getting it right! At Spitting Pig, food is our passion and we're committed to delivering the highest standard of catering to you. We offer several minus's to choose from, but we are also happy to work with you to create a tailor made menu from our great choices of hog roast Dereham meats, salads, starters and desserts. It's not only roast pig that we offer, we also can provide Succulent spit roasted chickens, roast lamb, sirloin of beef, turkey and salmon which is now a very popular choice on our wedding menus as it is presented whole and dressed.
We also offer the option of dessert for all you sweet tooth's out there, with the choice of eight different desserts all served with fresh cream they truly are delicious! We are one of the most popular hog roast hire Dereham caterers in Dereham and we can offer you roast lovers out there the opportunity to hire one of our machines for the day or the weekend depending how many mouths you have to feed. With our service we would deliver the machine to your event with a bottle of gas. Don't worry we wouldn't just dump it on you and expect you to know how to set it up. One of our experienced chefs would show and explain everything to you.
Variety Is What We Strive For
So if you think you've got the skills to show off your calving abilities to your friends and family why not inquire today and you could become your very own pig roast Dereham in no time. Dereham has a long history going way back to the 8th century. St Bede is known to have mentioned a monastery which was built in Dereham on the site of the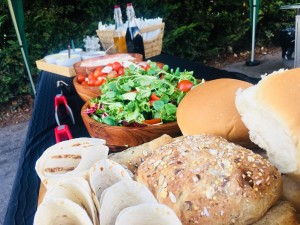 Kings daughter's vision of the Virgin Mary. Dereham in Norfolk is twinned with Caudebec Les Ebeuf in France. The French are notorious for their excellent cuisine and we at Spitting Pig hog roasting company are certain that our signature organic hog roast Dereham would not feel out of place there.
All of our menus come with a fully trained chef and staff, we also provide gazebos and covers if serving outside just in case the weather lets us down which is more than likely in the UK.  When your event is finished and everyone has enjoyed their meal one of our staff will collect the rubbish and dispose of it discretely off site.So if you're thinking of hosting an event, give Spitting Pig a call and we'll make it one to remember.