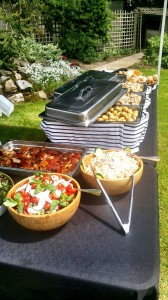 Welcome to Fakenham's premier hog roast catering provider. We are a hog roast catering specialist based in the lovely picturesque village of Fakenham, a small market town that meanders through the woods and heaths on its way to Dereham. Myself (Paul) and my wife Sarah will supply you with a wonderful top notch hog roast catering experience that will leave your guests wanting more!
I have worked at the very top levels of the catering trade for over 10 years and now specialising in hog roasting. Hopefully by now many of you will have experienced our excellent Fakenham hog roasts.
Years Of Hog Roasting Experience Developed
Both myself and Sarah have collected years of experience and not just in hog roasting but in many different types of catering. I now use all of these skills to bring you a real pig roast catering treat surrounding your hog roast centre pieces with a selection of other tasty delights, salads, side dishes and beautiful desserts. We always use freshest of ingredients sourced from just outside of the village, we believe this is what creates the outstanding flavours of a famous Spitting Pig Hog Roast. From experience of working in many different aspects of the trade, organising and cooking for a wide range of clients I have organized many successful functions. We have an ever growing list of happy customers and thrive off our repeat bookings.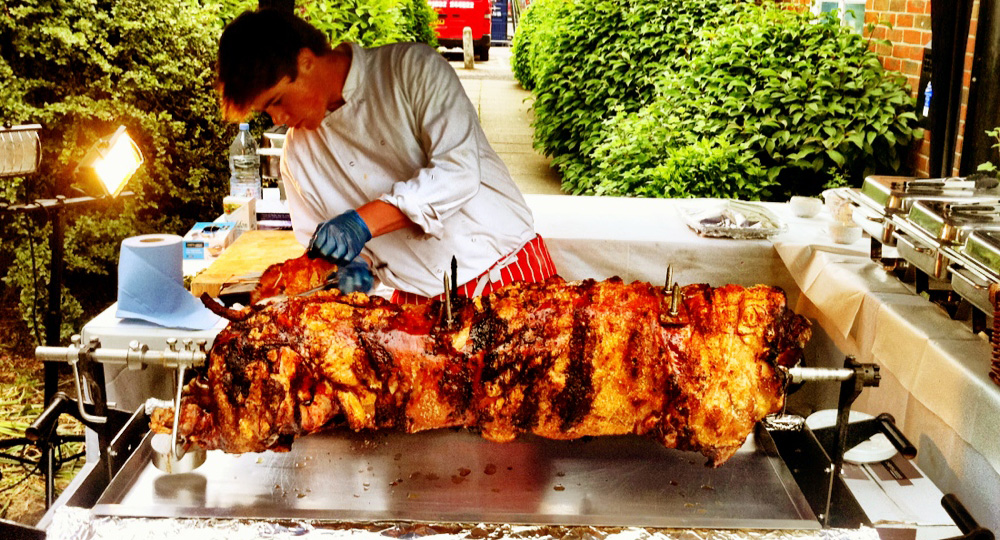 We have the experience to help you make your special event run smoothly and be a big success. Our staff who work with us have been trained up in all aspects of Hog Roast Fakenham catering whilst serving our customers at many events all over Norfolk. It has proved invaluable on the job training and means that when we arrive on site at your Norfolk hog roast party we function as a team and leave your guests happy and fulfilled. We don't class ourselves in the catering business we are in the people business and our job is to make people happy and thrilled with their hog roast catering experience. If you have any requirements that are not mentioned on any of the menus do not hesitate to ask we can generally provide them at no extra cost all freshly made. If you are ever at one of our events and sample our home cooking it will give you great confidence in our capabilities and customer service skills, then you will feel that extra comfort when booking us to do your Norfolk spit roast catering.
Organised And Professional Catering Services
We cover the whole of East Anglia with our catering services and can be at several locations throughout East Anglia on the same day. We have top notch catering equipment that we keep in excellent condition along with our vehicles as this can be an area of the catering business that can sometimes be neglected but is just as important. A large part of a satisfied customer is getting to the venue early and well organised. This immediately puts everyone at ease and means we have plenty of time to have good look at the event as a whole not just our part.
[+ show][- hide]