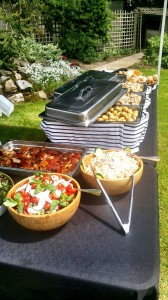 Welcome to Fakenham's premier hog roast catering provider. We are a hog roast catering specialist based in the lovely picturesque village of Fakenham, a small market town that meanders through the woods and heaths on its way to Dereham. Myself (Paul) and my wife Sarah will supply you with a wonderful top notch hog roast catering experience that will leave your guests wanting more!
I have worked at the very top levels of the catering trade for over 10 years and now specialising in hog roasting. Hopefully by now many of you will have experienced our excellent Fakenham hog roasts.
Years Of Hog Roasting Experience Developed
Both myself and Sarah have collected years of experience and not just in hog roasting but in many different types of catering. I now use all of these skills to bring you a real pig roast catering treat surrounding your hog roast centre pieces with a selection of other tasty delights, salads, side dishes and beautiful desserts. We always use freshest of ingredients sourced from just outside of the village, we believe this is what creates the outstanding flavours of a famous Spitting Pig Hog Roast. From experience of working in many different aspects of the trade, organising and cooking for a wide range of clients I have organized many successful functions. We have an ever growing list of happy customers and thrive off our repeat bookings.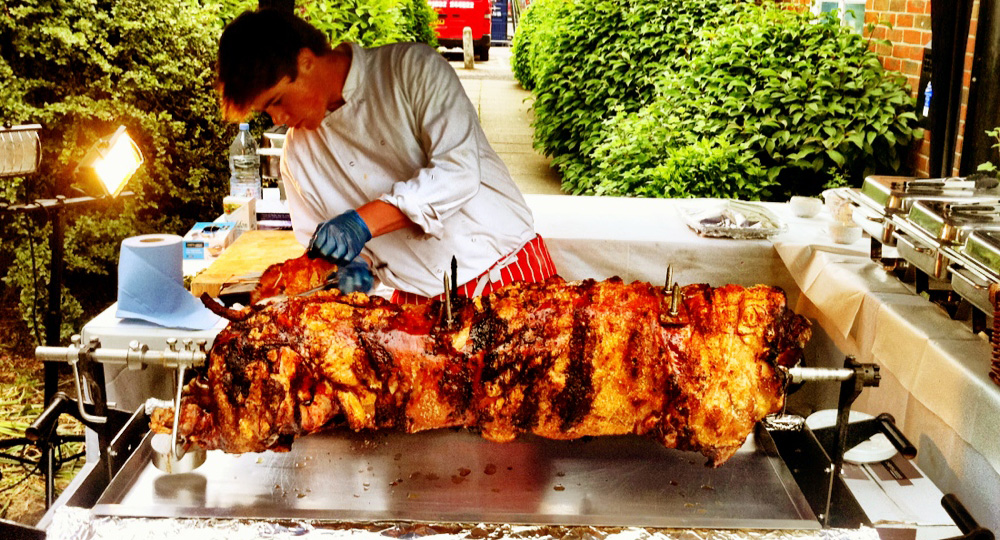 We have the experience to help you make your special event run smoothly and be a big success. Our staff who work with us have been trained up in all aspects of Hog Roast Fakenham catering whilst serving our customers at many events all over Norfolk. It has proved invaluable on the job training and means that when we arrive on site at your Norfolk hog roast party we function as a team and leave your guests happy and fulfilled. We don't class ourselves in the catering business we are in the people business and our job is to make people happy and thrilled with their hog roast catering experience. If you have any requirements that are not mentioned on any of the menus do not hesitate to ask we can generally provide them at no extra cost all freshly made. If you are ever at one of our events and sample our home cooking it will give you great confidence in our capabilities and customer service skills, then you will feel that extra comfort when booking us to do your Norfolk spit roast catering.
Organised And Professional Catering Services
We cover the whole of East Anglia with our catering services and can be at several locations throughout East Anglia on the same day. We have top notch catering equipment that we keep in excellent condition along with our vehicles as this can be an area of the catering business that can sometimes be neglected but is just as important. A large part of a satisfied customer is getting to the venue early and well organised. This immediately puts everyone at ease and means we have plenty of time to have good look at the event as a whole not just our part.
[peekaboo]
[peekaboo_content]
With easy access to the major routes across East Anglia linking the major towns of Norwich, Diss and Ipswich using local suppliers and only using the best and seasonal produce I can give the perfect solution to all your catering needs. Looking forward to meeting you and making your day go smoothly and giving your guest a day to remember.
On the back of our enthusiasm for hog roasting we've occupied the realms of excellence since I started the company, and we have no intentions to give up our position any time soon. The passion and commitment to good food has only grown stronger through our success and experiences with our wonderful clients. My company has many services that we can offer to you, all of which are reputed as being the best to be had, and with good reason. We outright refuse anything that falls short of excellence, from the food, machines and the staff we employ, all of which are a reflection of my values and standards. It was at a friend's party when I first got a sample of a Great Yarmouth hog roast, with my previous experience in the catering industry I knew immediately that there was something to hog roasting, from the perspective of both business and pleasure. My time served experience running successful catering companies put me in a great position to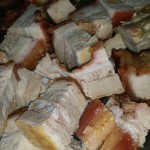 exploit what's turned out to be a massive demand in the market, and I embraced the opportunity with open arms. I started the company with 2 prime goals, to provide Haywards Heath hog roast catering and also a Chichester hog roast hire service. We were soon forced to re assess the extent of what we did after a rise in demand from previous clients, now we provide not just spit roast catering and hire, but also sell our machines. There are individual benefits to all three.
The catering service is favoured by clients looking to cater with style and grandeur for, usually, a one off occasion; the hire service tends very popular with clients who would like to cook with our machines themselves, while keeping the costs a little lower; clients buying our machines often – but certainly not always – fall into 2 brackets, either caterers like ourselves who want 'in' on the market, so to speak, and previous clients who've been witness to the brilliance of hog roasting and want a machine for their own backyard BBQs and family get-togethers. Regardless of your reasons or preference, one thing that's constant is the quality and delights provided by hog roasting. Whether it's you or our chefs manning the machines, the mouth watering qualities of hog roasted meats is unchanging. The beauty of spit roast machines is in their simplicity and ease of use, you don't have to be a rocket surgeon to cook up amazing, taste bud tingling spit roasted meats – And although health and safety would have something to say about it, a 5 year old(a tall one, at least) child could theoretically operate a machine. What you're basically getting is the crock pot of the BBQ world, there's very little hands-on work required. Simply buy your meats, marinade or even season them with your favourite herbs and spices, skewer the meats, turn your machine on and wait.
Watching your food cooking can be an agonising wait at the best of times, but the sight of a whole hog, lamb or chickens spinning round and round, cm by cm, will certainly whet an appetite and give your friends a topic of conversation. With a hog roast machine you might even convince your kids to leave the house! We were helped by some of the UK's leading chefs and food critic to create and master our menus which has led to the Spitting Pig catering service being nominated for and winning culinary awards on several occasions since we started operating. We go beyond simply cooking up amazing food, our service and friendly approach to clients and customers is just as much a staple of my company as the food itself. From the first conversation you have with us you'll soon realise that we care about our customers and your peace of mind and needs just as much as hog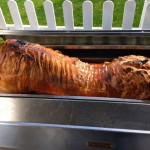 roasting. We'll help and assist you throughout, because I don't believe good service starts and ends with the quality of food and hog roast machines. This approach is the reason I've had such great success with the Spitting Pig catering service and would be honoured to help you in any way, no matter what the occasion or scale. With my large family of chefs and waitresses we're able to cater for different clients in several locations a day, on most days of the year. And while we're certainly not short of clients we're always looking to work with and meet new people and businesses.
[/peekaboo_content]