Spitting Pig East Anglia have been Hog Roasting in Norwich, Dereham and everywhere in between for a good number of years now and offer a wide range of hog roasting services to our clients. We can provide you with a range of services to suit your own budget and needs. The most popular service throughout our many years in the industry has been our hog roast catering. A service that's top of the range in every way and at a cost that's not too punishing on your bank account, it's no surprise to me that most clients rate our spit roast catering so highly. Whether it's a roasted pig sandwich down the local football club or a formal full course meal with starters and deserts served up by our expert chefs and waitress's at a celebrity wedding, Spitting Pig's renowned hog roast Norwich catering has always been a genuine favourite and crowd pleaser. Less popular, but by no means inferior, is our machine hire service. We offer clients the option of hiring our hog roast machines, great for less sizeable events or fellow caterers looking to improve their own service by utilising the wonderment of spit roasting. If you value quality food and entertainment like we do then look no further than Spitting Pig.
Hog Roast Norwich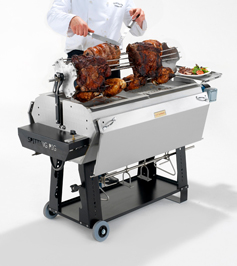 We have been providing Hog Roasts in Norwich for all different occasions for many years. we use only the finest local ingredients and we are very lucky to have these readily available right on our door step at Rudd Farm. We are careful to only use the best local free range pigs and with a little notice we can a rare breed or fully organic one for that extra special occasion.
Hog Roasts and Catering for all Occasions
It's my mission to provide the people of Norwich and Dereham with the best hog roast catering and machine hire, and with over 5 years experience providing our spectacular services I'm more confident than I've ever been that hog roasting with us will be the best decision you could make. Over the years I've steadily assembled an arsenal of market leading bespoke machines and a family of staff that are the best the country has to offer, with both at the company's disposal it's really no surprise that we're rated as being the best hog roast caterer and spit machine hirers in the country. We're able to boast an extensive track record and a long-term client list that stands in testament to the quality of our service and the hog roasting cooking method itself. The area has a long and proud history of farming, agriculture and good, wholesome, British food, and we're more than happy to carry on such wonderful local traditions with our hog roasting. We don't believe in doing things in halves, which is why, as well as having the best machines on the market, we also buy all of our produce from local farmers who rear all their produce ethically and naturally – That means no tasteless, factory farmed animals raised indoors on steroids and junk. All the meats we use are the best to be had, complementing perfectly the market leading quality of our machines. Spit Roasting and celebrations go hand in hand no matter the country or culture, and it's no different in Norwich and Dereham. The sight and taste of a whole hog that's slowly cooked by a spit roast machine is a real delight and cooks some of the juiciest, flavourful and most succulent meat there is to be had.